Pedro Rizzo Announces Retirement, Wins Final Bout in Brazil with Trademark Leg Kicks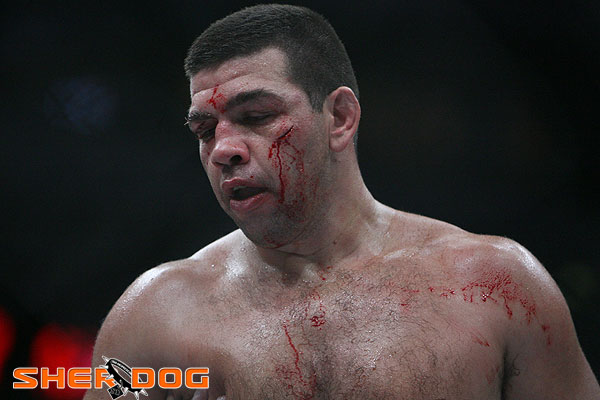 Pedro Rizzo leaves the sport with a record of 20-11. | File photo: Dave Mandel/Sherdog.com
---
Less than two weeks after
Antonio Rodrigo Nogueira
announced his retirement from MMA, another legendary Brazilian heavyweight left the sport:
Pedro Rizzo
.
Rizzo's final fight took place Saturday, Sept. 12, at
Face to Face 12
in Vitoria, Brazil. Originally scheduled to face
Travis Fulton
, Rizzo's opponent was changed less than two weeks out from the event when the American withdrew with a heart problem. Instead, "The Rock" took on Hawaii native
Andrew Flores
Smith in a bout broadcast live in Brazil on cable channel Combate.
With master
Marco Ruas
in his corner and the crowd screaming his name, Rizzo was clearly nervous as he stepped into the cage. The underdog Smith took advantage of his opponent's rusty movement -- Rizzo's previous fight was against Satoshi Ishi in May 2013 -- and scored with punches and takedowns in the early going. When the crowd booed the lack of action on the ground, referee Mario Yamasaki brought the fighters to their feet. In the final minute of the round, Rizzo used his famous low kicks to swing the fight in his favor. A series of chops to the legs sent Smith to the ground at the bell; when Smith did not stand up at the end of the round, referee Yamasaki called the fight, awarding Rizzo the win via technical knockout.
After the fight, Rizzo left his gloves on the mat of the cage and announced his retirement while standing alongside Ruas. He also declared his surprise at the strength of last-minute opponent Smith.
"Andrew surprised me. I didn't believe in his hands, but he hit me hard," said Rizzo. "When I heard the 10-second [timer], I decided to use my low kicks to see if he could resist.
"It's been a long time since I was so nervous for a fight," Rizzo admitted. "I was so afraid, not for the fight itself but for how my last moment would be. I wanted to show my students and my daughter, Laila, how it was. Physically, I could fight more, but my heart is fine. I brought my master, Marco Ruas, and I didn't tell him it was my last fight... This guy invented MMA, trained me, and wherever I go in the world, I'm welcomed because of him. Now, it's time for the new generation to shine. I finished the same way I started: with low kicks in Brazil."
Speaking afterward, Ruas said he agreed with his longtime pupil's decision to leave the sport.
"I'm all pride. He made the right decision," said Ruas. "Rizzo did a lot for the sport."
Nogueira, who was in attendance at the event with UFC Senior Vice President Giovani Decker, also entered the cage to embrace Rizzo.
"When I was warming up," Rizzo said, pointing to Nogueira, "this guy came to me and said, 'You inspired me when I started fighting.' To hear that from a legend like this is something priceless. And, if I inspired 'Minotauro,' then Ruas inspired me, and that's a great way to finish my career, together with these two legends of the sport inside the cage."
Rizzo will now dedicated his time to coaching his own team, Rizzo RVT (Ruas Vale Tudo). The UFC and Pride veteran has a good relationship with famed Rio de Janeiro gym Nova Uniao and also trains such blue-chip prospects as Raoni Barcellos and
Davi Ramos
.
From 1996 until 2001, Rizzo fought the toughest heavyweights in the sport, beating the likes of
Mark Coleman
, "Tank"
David Abbott
,
Dan Severn
and
Josh Barnett
. In his first 13 fights, Rizzo suffered only two defeats, against
Kevin Randleman
and
Randy Couture
, the latter being a controversial decision which cost Rizzo the UFC heavyweight title. (Six months later, Couture would defeat him via TKO in a rematch.) Rizzo alternated wins and losses at the end of his career but his legacy will live on through fighters such as
Jose Aldo
, who has long stated that Rizzo was his biggest inspiration and the one who taught him how to kick.